Studying Women in 2010
"What do women want?" - Target Audience Mapping
Research Category: F/People
Background
What do women want? This question has long been a favorite of everyone from intellectuals, cultural researchers, psychologists, economists, and academics to the man in the street. It has even been the central theme of the Mel Gibson film that had almost the same name (What Women Want). However, a serious examination of this question requires first breaking it down into various elements. What topics interest women? What are the characteristic elements of conversation between women? Which fields provoke the most intense reactions from women? To what extent does "female" conversation exist, and can it really be distinguished from "male" conversation? With these questions in mind, we began the largest web research study performed recently in Israel, analyzing thousands of conversations among women on various social media sites.
Challenge
In trying to understand the topics closest to the hearts of Israeli women, we turned to the modern-day "town square": the web. Fascinating conversation among women of all ages and backgrounds takes place hourly on many blogs, status updates, talkbacks and forums. In order to receive as full a picture as possible, as well as neutralizing the effect of specific events, a year-long survey of leading women's social media sites was carried out during 2010. Instead of seeking answers to specific questions, we approached this broad-based study without preconceived notions. We simply monitored the conversations and deliberations, attempted to identify repeating patterns, and finally connected the dots to provide as complete a picture as possible.
Findings
The forums on the Tapuz web portal generated more web discussions and conversations among women than any other Israeli site during 2010, with Facebook taking second place. In comparing various topics of conversation, it was interesting to see that the relatively strong forums on Tapuz were in areas typically considered to be of the most interest to women – fashion, beauty, and nutrition (including dieting). Tapuz was responsible for more than a third of overall female conversation in these areas on the web.
Segmentation of sites in the fashion field:
In contrast, in the areas where Israeli male conversation was significantly greater (such as career and finance), the main discussion focused largely on responses to articles on news sites. The Tapuz forums attracted less discussion, but Tapuz was nevertheless the most active site in terms of women's conversation.
Segmentation of sites in the fields of career and employment:
Segmentation of sites in the financial field:
The volume of conversation among women about leading fashion brands remained constant throughout 2010. A sharp rise in conversation about H&M was recorded at the end of February, prior to the opening of the Swedish chain's first branch in Israel. Discussion peaked with the launch of the Azrieli branch in Tel Aviv on March 11. It was interesting to see that the opening of Gap's first Tel Aviv branch generated a similar buzz effect, but this was not nearly as strong as the buzz for its competitor H&M. This is despite the fact that Gap is a brand name familiar to Israeli women and strongly identified with the American shopping experience.
Segmentation of conversation about brands throughout the year: January-December, 2010: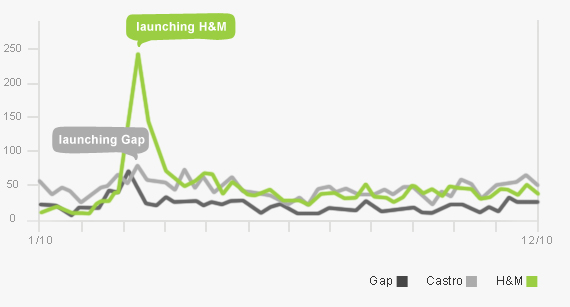 Insights
Analysis of the web conversations among women revealed several interesting insights. Not all of them were surprising, but most of them influenced our understanding of the reasons behind Israeli women's thoughts, feelings, and actions. All of these insights have far-reaching implications in almost every field.
The clearest insight we found, which was reinforced through hundreds of online conversations about a variety of topics, is that motherhood is the focal point of Israeli female conversation. For Israeli women, motherhood is the defining aspect of a woman's life. Regardless of the type of forum or topic of conversation, motherhood dictates and directs the focus of each conversation within the given topic. When discussing nutrition, for example, a core of conversations was identified about babies' and children's nutrition, as well as eating disorders among children and teenagers. Conversations about household financial management dealt with expenses related to raising children, and a repeating theme in discussions about careers was the constant tension between women's obligations to family and the workplace. Similarly, education-related topics contained discussions of dilemmas about where to send children to school, and how to deal with the difficulties of the teen years.
All these topics are also relevant to men, of course, but the special significance of parenthood in the life of the Israeli woman was particularly apparent in their online conversation.
In addition to studying women's areas of interest, this study also yielded insights on women's motivations for sharing information online. The study reinforced the perception that women primarily seek support through this medium: technical support for downloading music to an iPhone, mortgage advice, sharing intimate information about marital troubles, venting about the difficulty of finding boots at a reasonable price, or a request for tips on maintaining a low-gluten diet.
On the surface, women ask matter-of-fact questions, but what really brings thousands of them to the forums, talkbacks and Facebook groups is something much deeper. Women are seeking a listening ear for the problems that disturb them, and a place to empathize with other women who are experiencing similar problems. Even when the official reason for a message is matter-of-fact, the main underlying motivation is emotional.
Women understand this about other women. They also know that the responses they receive will not solve their problems, but rather give them the strength to continue. With women, an online forum can indeed serve as a warm, supportive community in the vastness of cyberspace.
Israeli men, on the other hand, see web forums on the level of a gas station or mechanic. They enter with a specific need, receive what they are looking for, and then move on.
Another revelation is that the web enables women to express their femininity. Thousands of discussions about the opening of H&M, TV news anchorwoman Yonit Levi's fashion mishaps, singer Michal Amdursky's red dress, and the floral trend now blooming in Israeli malls – all serve the same purpose: self-expression. This comprehensive research study mainly revealed the strong need for women to tell others what they think about fashion issues, and about other women. If those women are celebrities who frequently have fashion disasters, so much the better for conversation! For women, online discussion is not a deliberation of experts about a professional matter, but a way of connecting with women across the spectrum. It's active, emotional conversation with a high level of involvement. Only a few women enter fashion forums or discussions to get actual practical answers on something that is bothering them. And when they ask for feedback about a particular sweater-skirt combination, what they really want to tell the other women is: "look at me!"